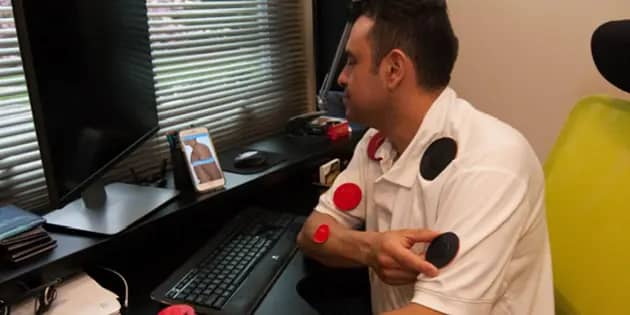 This app is a combination of critical information that I have personally attained in my own clinical practice as a Biomagnetism clinician as well as in my assistance throughout the years to over 20 Biomagnetism courses including a majority being taught by Dr. Goiz himself. The App allows users to search for various biomagnetism pairs, health concerns, and microbiome and enable them to self-heal several health issues using pairs of magnets of medium intensity.
I sincerely admire, respect, and thank Dr. Isaac Goiz Duran for his 'Nobel prize worthy' genus work and effort.
Being a Medical Doctor and experiencing firsthand, the miraculous changes and benefits of this therapy with thousands of my patients, I wanted to responsibly bring as much of this (Beyond Biomag 3D App) to the world so that millions of lives may continue to benefit. What better way than to put as much information as possible into the hands and phones of people around the world. As a Medical Doctor, I feel it was my moral and ethical responsibility to help bring as much information to light as possible to my medical colleagues and those in need. This app is for the benefit of all mankind. It is and will continue to be a combination of knowledge from many other Biomagnetism mentors from around the world including pairs discovered and described by Dr. Miguel Ojeda, Dr. Salvador Gutierrez Rodriguez de Mondelo, Dr. Enrique de Juan Gonzalez de Castejon, Dr. Mario Ricardo Rodriguez, Jorge Mena PhD, Antonio Salas PhD, Gustavo Guayasamin, Jorge Tapia, Carlos Zamora, Alejandro Lavin and myself, Dr. Luis Fernando Garcia.
I plan to continue to update it with the most relevant pairs and descriptions so that conditions such as Lyme, Diabetes, Malaria, Tuberculosis, Epstein Barr Virus, Chronic fatigue, and others around the world can be addressed by taking out our smartphone and looking up some keywords. Does this not sound like a great advancement in health for the world? Let us all unite and continue to make this a global phenomenon one relevant Biomagnetic pair at a time. I welcome your feedback and want for us to come together as a responsible global social community.
I would like to conclude with a quote that a medical colleague used as well about this therapy being made public.
'Science and art belong to the whole world, and the barriers of nationality vanish before them' – Johann Wolfgang von Goethe  (1749-1832)